Radcliffe Servicemen and the British Army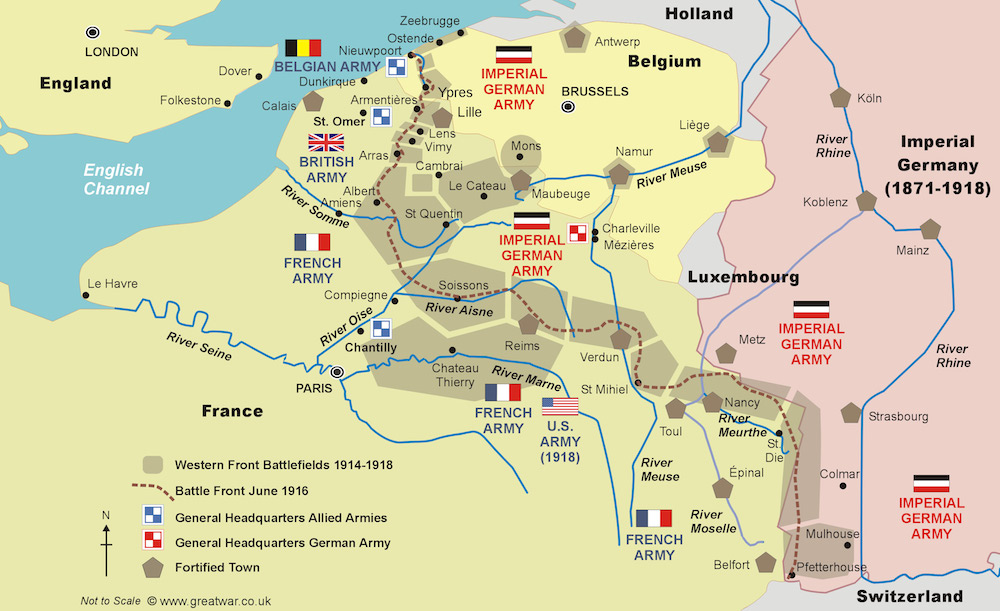 Map of the Western Front by kind permission of Joanna Legg at http://www.greatwar.co.uk
Most of the Radcliffe men described in this article fought and died on the Western Front (France and Flanders) with the British Army. The map above shows the 1914-1918 battlefields and the front line in June 1916. The British Army were concentrated in a relatively small area north of the River Somme for much of the war.
Men in the infantry served in regimental Battalions, which comprised about 1000 men of which around thirty were officers. Regiments and field artillery were grouped into Divisions of the British Army. A man's individual military career ran in parallel with the movements of his regiment, brigade and division. It was broken down further within the structure into actions of smaller units of companies and platoons.
In 1914, each Division included three infantry brigades (made up of four battalions), three artillery brigades, two engineer field companies, one signals company, one cyclist company, one cavalry squadron, medical corps, three field ambulances, veterinary corps, an additional Pioneer battalion for building work and digging trenches, and four Army Service Corps transport companies – over 18,000 men in total and 20,000 at full strength. During the war, the divisional structure was revised with more guns being added and the number of men reduced. The British Army was eventually subdivided into five armies in France and Flanders, each consisting of 250,000 to 500,000 men. Every division was assigned to one of these armies. After the British Expeditionary Force was effectively wiped out at the end of 1914, the First and Second Army were formed on December 26th. The Third Army was formed on 13th October 1915, the Fourth on 5th February 1916 and the Fifth on 30th October 1916.
Military Units of Radcliffe men who died:
Australian Imperial Force
Canadian Field Artillery
Essex Regiment
Kings Royal Rifles Corps
Lancashire Fusiliers
Lincolnshire Regiment
London Regiment (Artists Rifles)
1st/6th (City of London) Battalion (Rifles)
Machine Gun Guards
New Zealand Expeditionary Force
Northumberland Fusiliers
10th Bn. (Prince of Wales's Royal) Hussars
The Princes Victoria's (Royal Irish Fusiliers)
Royal Air Force
Royal Field Artillery
Royal Flying Corps,
Royal Garrison Artillery,
Royal Marine Light Infantry,
Royal Naval Division
Sherwood Foresters (Nottinghamshire and Derbyshire Regiment)
South Nottinghamshire Hussars
South Staffordshire Regiment
West Yorkshire Regiment (Prince of Wales's Own)
The York and Lancaster Regiment
Yorkshire Regiment (Alexandra (Princess of Wales Own)
The Radcliffe men's military units fell into the following Divisions:
Regular Army Divisions: 2nd, 3rd, 4th, 6th, 8th
The first-line Territorial Divisions: 42nd, 46th, 47th, 50th
The New Army or 'Kitchener' Divisions: 9th, 11th, 14th, 17th, 21st, 31st, 34th, 35th, 37th, 39th, 63rd (Royal Naval) Division
Cavalry: 2nd Mounted Division, 3rd Cavalry Division
Detailed accounts of overall strategy and movements of these military units and divisions can be found via the links at the end of this article.