Last 100 Days, 5th Battle of Ypres 1918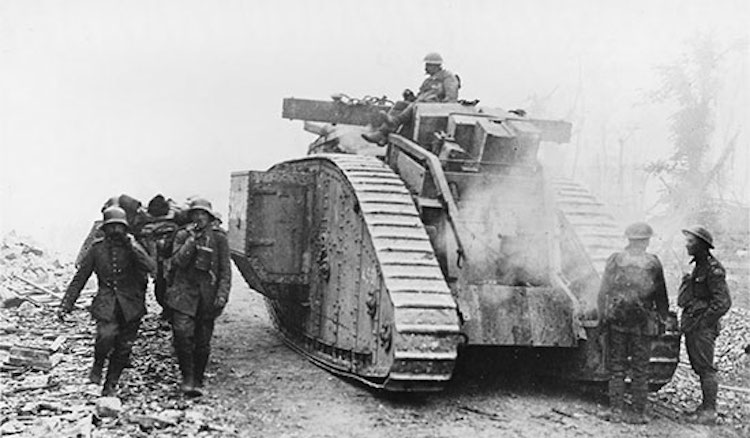 British tank passing German stretcher bearers during the Battle of Amiens, 10th August 1918
Source: Mary Evans/ Robert Hunt Collection / Imperial War Museum
The Hundred Days Offensive, a series of attacks launched by the Allies and bolstered by the American Expeditionary Force, forced the Germans to retreat behind the Hindenburg line and led to the Armistice in November. It began with the Battle of Amiens on August 8th, known as the 'Black day of the German Army'. By the end of that day, the Allies had taken thousands of prisoners and captured over three hundred guns.
Battle of Amiens
August 8th – 12th, 1918
The battle, also known as the Third Battle of Picardy, was fought east of Amiens and saw one of the greatest advance of Allied troops in the war. It marked the end of trench warfare and a return to open warfare. The fourth army was present.
Gas attacks continued to be used. They were the cause at Amiens of the deaths of two Radcliffe on Trent servicemen:
August 11th, gassed, died September 9th 1918, Rouen: Private 204692 William Lodge, 10th Bn., Sherwood Foresters, 51st Brigade, 17th (Northern) Division. He was gassed on August 11th, taken to a casualty clearing station and transported four days later to Rouen. Died of wounds, Rouen military hospital complex, age 29.
August 15th, gassed, died September 3rd 1918, military hospital, Le Treport, Dieppe: Private 103567 Samuel Parkes, 10th Bn. Sherwood Foresters, 51st Brigade, 17th (Northern) Division. He died of gas wounds, age 18, following a heavy evening gas bombardment on August 15th which started at 12.15 a.m. and lasted for three hours. D Coy. were all casualties and most of B Coy. Total casualties in the battalion were 13 officers and 423 other ranks.
From mid- August to September 6th operations took place in the Lys valley, recapturing ground lost in April 1918. Second and fifth armies present.
September 2nd 1918, Picardy. Death of Private 46908 Samuel Bernal Osbourne, 2nd Bn. Essex Regiment, 12th Brigade, 4th Division, fifth army. Killed in the advance to victory in Picardy and Artois, age 19.
Information from Essex Regiment War Diaries
'September 1st 1918 – B, C and D Coys moved up to assembly positions at night. Casualties:- a/Capt: G. Parker and 2/Lieut E.A. Lane killed 31.1.18. Lieut A. Sloan wounded. 8 other ranks killed. 14 other ranks wounded. 16 other ranks to Fields Ambulance (N.Y.D.N. Gas) 4 other ranks to Field Ambulance, 4 other ranks reinforcements.
September 2nd 1918 – Battalion assembled in depth by 4 a.m. in P.13.2 and attacked enemy trenches in P14, P 15 and P16 at 5 am. Attack successful but some confusion caused by other troops occupying same trenches'.
The Lancashire Fusiliers were in the Somme region in September 1918. On September 11th they captured Attilly and advanced to Holnon Wood, which they captured between the 12th and the 14th.
September 14th 1918, Holnon Wood. Death of 2nd Lieutenant Walter Whitworth, 1st/7th Bn. Lancashire Fusiliers, 125th Brigade, 42nd East Lancashire Division. He was living in Radcliffe with his wife and child but also had a home in Argentina. Died at No. 41 Casualty Clearing Station, Proyart (Somme department, Picardy region), from wounds received during the capture of Holnon Wood (source: De Ruvigny's Roll of Honour).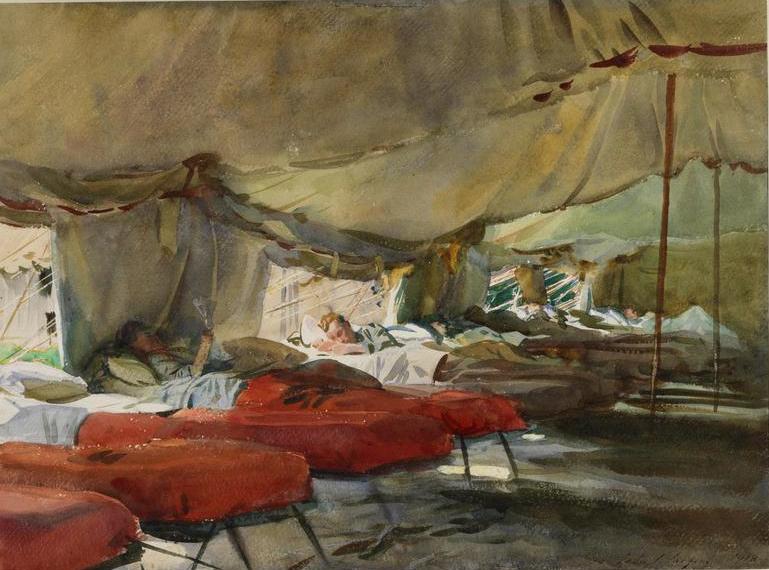 John Singer Sergeant's painting of No 41, Casualty Clearing Station, 1917, courtesy of IWM, London
5th Battle Of Ypres, Belgium
September 28th – October 22nd 1918
Rapid Allied advances resulting in breach of Hindenburg line. Allies advance 18 miles and capture 10,000 German soldiers.
September 30th 1918, Ypres Salient. Death of Private 33575 George Shephard, (Sheppard on Radcliffe war memorial but Shephard on birth certificate) 13th Bn. East Lancashire Regiment, 119th Brigade, 40th Division. Killed in action, Ypres Salient area, age 21. Previously the Battalion had been attempting to sling three bridges over the River Warnave at night but was driven back. However, they had been able to establish posts to guard the approaches.
From East Lancashire Regiment War Diaries:
29/9/18 Inactive during the day. At night orders were received for the Battalion to advance the outpost across the R. Warnave. This was carried out successfully and a new line of posts was established. 2nd Lieut. Ashworth was wounded.
30/9/18 Patrols pushed forward during the day and met opposition at Railway. Lieut. Parkyn was wounded here. The patrol was held up by MG and rifle fire and bombs. On the left a post was advanced …although strong opposition was met
Total Casualties 9 killed, 54 wounded, 18 missing
October 1st 1918, Zandvoorde. Death of Private 36412 Thomas Packwood, 15th Bn. The Sherwood Foresters, 105th Brigade, 35th Division, who was a bricklayer from Radcliffe. Killed in action, Zandvoorde area, age 30.
October 13th 1918, Ficheux. Death of Private 51339 Alfred Upton, 1st/7th Bn. Prince of Wales's West Yorkshire Regiment, West Riding Brigade, 49th (West Riding) Division. He lived at the Harlequin, Radcliffe. Died of wounds, Ficheux, south of Bethune, France, age 21.
From West Yorkshire Regiment War Diaries
03.50 Battalion in position of assembly along road facing east; 05.20 Enemy seen taking up position 300 yards in front on high ground; 07.15 Aerial activity – mostly our own; 07.30 Intermittent shelling of assembly position; 09.00 Zero hour. Barrage opened and front line company went over in splendid order, enemy machine guns opened heavy fire; 09.15 Front line company over crest of ridge. Prisoners coming in fast; 09.20 Many machine guns captured; 09.43 Lt Col commanding hit by machine gun bullet in thigh and carried down; 09.50 Attack still running well; 10.05 Enemy counter attack accompanied by tanks; 10.15 Enemy tanks driven off by concentrated Lewis Gun fire; 10.30 Enemy retiring; 11.00 Front line reinforced but further advance delayed by disorganization and lack of ammunition. Enemy trench mortar captured; 11.30 Further advance impossible owing to casualties; 12.00 to 19.00 hours heavy enemy shelling and withdrawn to reorganize.
Estimate of casualties 11 officers 468 other ranks