HMS Leasowe Castle torpedoed
May 1918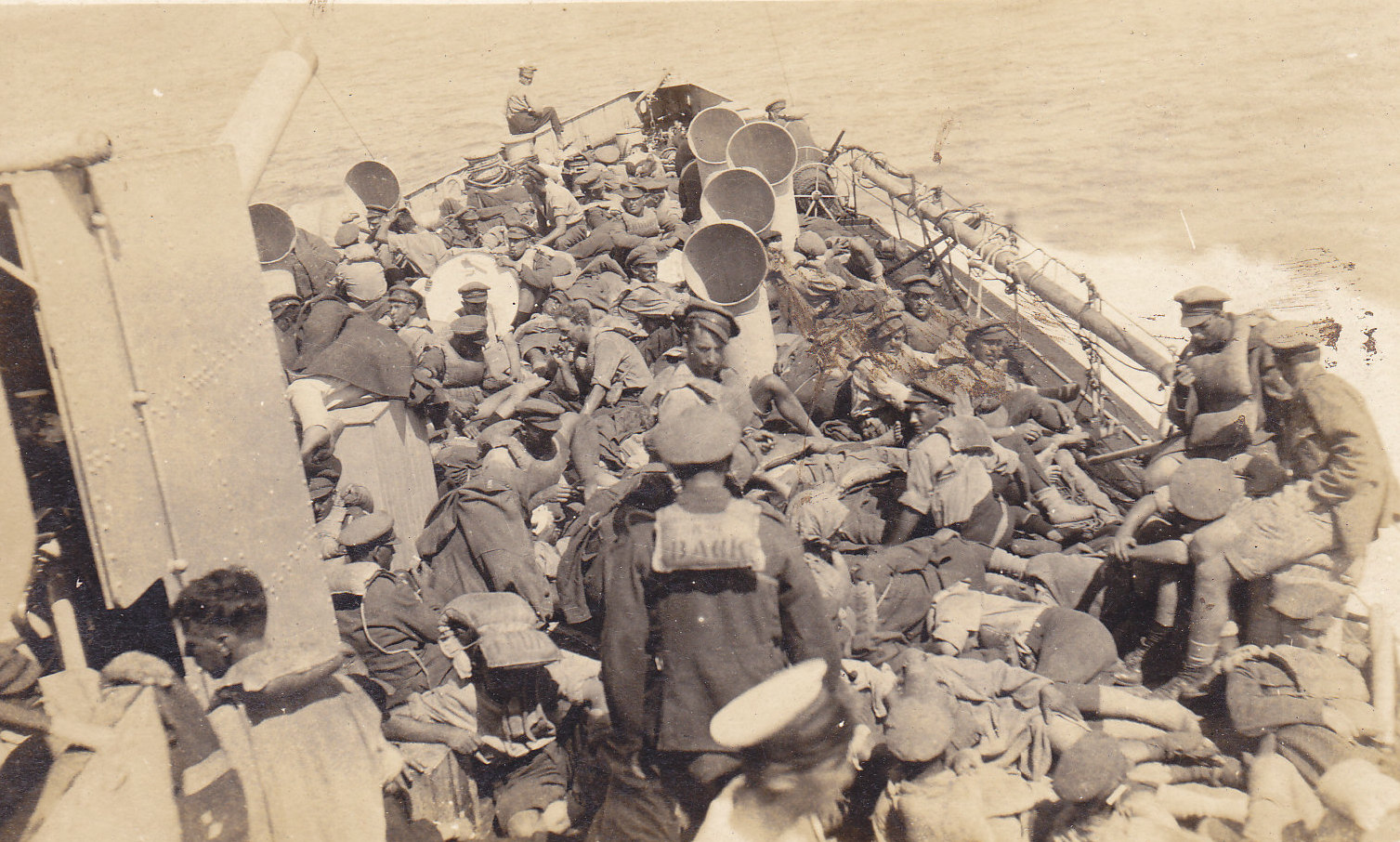 Men on lifeboats leaving HMS Leasowe Castle, photo taken by a survivor.
By kind permission of survivor's descendants, who are resident in Radcliffe on Trent
Campaigns in the Middle Eastern theatre of war took place between October 1914 and October 1918. The main objectives, initially, were the defence of the Suez canal and the Persian Gulf, both of which were of strategic importance. The Allies later moved to aggressive campaigns against the Ottoman Empire from both base areas. The Nottinghamshire Yeomanry, also known as the South Notts. Hussars, was involved, spending periods in Egypt interspersed with tours in Gallipol and Salonika. They were converted to a machine gun corps in April 1918 in response to the German gains in the Spring Offensive (there was little role for cavalry on the western front) and plans were put in place to transfer them to France. They embarked on HMS Leasowe Castle at the end of May.
May 27th 1918. Death of Private 280626 William Cyril Vickerstaff, 1/1st South Notts. Hussars who lived in Victoria Street, Radcliffe. He died, age 20, while being conveyed on the troopship HMS Leasowe Castle from Alexandria to Marseilles. The ship was carrying 2,900 troops plus crew in a convoy consisting of six transports including HMS Lily. She was struck on the starboard side at 12.25 a.m. approximately 100 miles from Alexandria by a torpedo fired from a German submarine.
The engines were stopped almost at once: the ship remained on an even keel, settling slightly by the stern. Troops fell in at their emergency stations immediately. Those berthed on the lower decks had been sleeping on deck near their emergency stations that night. Around forty boats and rafts were thrown overboard and troops began leaving the ship. By 1.30 a.m. about 2000 men had been evacuated.
HMS Lily returned to assist, coming alongside the forecastle and making fast with ropes, narrowly escaping going down with the Leasowe. Rescue operations were carried out until about 2.am when the ship sank rapidly at the stern. Many men jumped into the sea in the last few moments and were picked up from rafts, including the Battalion commander Major Sir St. J. Gore Bt. However, 102 men lost their lives including eight officers and forty four other ranks from the South Notts. Hussars. Many of the Hussars are remembered on Nottinghamshire War Memorials.
The majority of the men on board were saved. Samuel Haynes, another serviceman from Radcliffe with the South Notts. Hussars, was rescued from the sea but his hands were permanently damaged as a result of clinging to a raft. Most men who lost their lives when the ship went down had been waiting on the forecastle. The survivors were returned to Egypt. The unit re-embarked in mid June and eventually arrived in France, via Italy, in mid August. The Nottinghamshire Yeomanry were then renamed the 100 Battalion MGC.
For more information, including survivors' accounts, see www.greatwarforum.org, www.scotlandswar.co.uk and contact Warwick Yeomanry Museum.
Other conflicts
June 25th 1918, Bienvillers, France. Death of Private 32907 Frederick Brown, 2nd Battalion South Staffordshire Regiment, 6th Brigade, 7th Division, a former corn merchant labourer from Lincolnshire and married father who was living in Radcliffe. Killed in action near Bienvillers, south-west of Arras, age 34.
From South Staffordshire Regiment War Diaries
June 25th: Fine. Very cold. Raid on right by 23rd RF. Heavy barrage, unsuccessful. During hour(ly) patrols tried to obtain identifications but were unsuccessful. 3 officers went down with trench fever.
July 5th 1918, Death of Lieutenant Charles Geoffrey Claye, 99th Squadron, RAF. He lived at Radcliffe Hall (now the British Legion) as a child. Killed in action as an observer in a D.H.9 during a bombing raid. He was 23 years old.