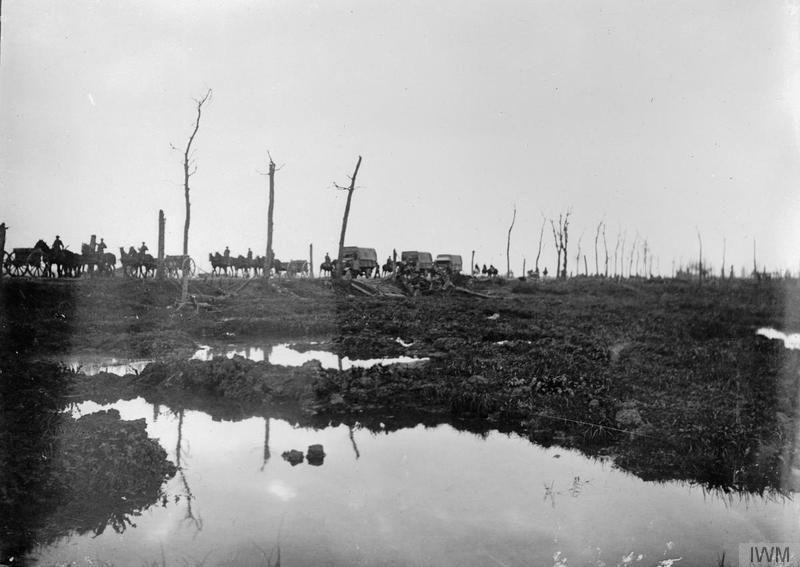 Passchendaele by official Australian photographer.
Image courtesy of the Imperial War Museum. Image IWM (E(AUS) 844)
The 3rd Battle of Ypres was a major British offensive on the Western Front in 1917. The objectives were capturing Roulers, a key railway centre, and the clearance of the Belgian coast. The appalling weather turned the battleground into a quagmire in August. Passchendaele was finally occupied in November at a cost of innumerable men and horses drowning in mud and five miles gained for over half a million casualties (precise casualty figures for both sides are disputed). The Second and Fifth Army were present. The major conflicts were the Battles of Pilkem Ridge (July 31st–August 2nd), Langemarck (August 16th–18th), Menin Road Ridge (September 9th-26th), Polygon Wood (September 26th–October 3rd), Broodseinde (October 4th), Poelcapelle (October 9th) and the 1st (October 12th) and 2nd (October 26th–November 10th) Battles of Passchendaele.
Battle of Pilkem Ridge
July 31st to August 2nd
The Battle of Pilkem Ridge was the opening attack in the 3rd Battle of Ypres, taking place in the Ypres Salient. The second and fifth armies were present. While the Allies captured a significant amount of ground, they also lost ground to the Germans from the Ypres-Roulers railway to Saint Julien. Heavy rain from the end of July saturated the battleground with disastrous effects .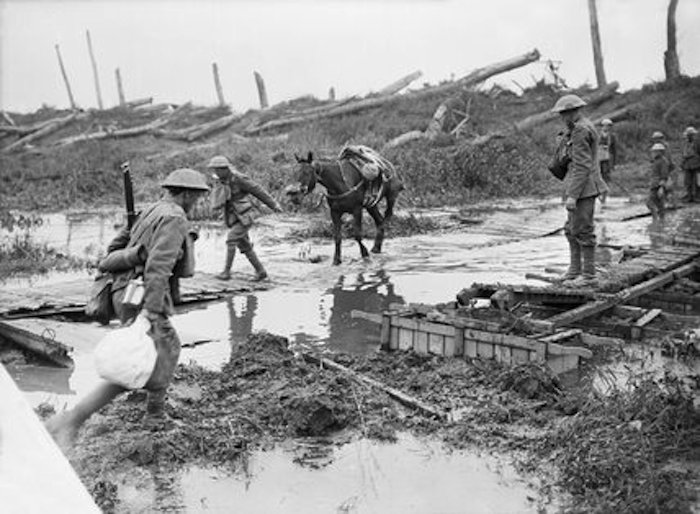 Crossing the Yser Canal at Boesinghe, 31st July 1917.
Image Q2635 courtesy of IWM. Photograph by Lieutenant Ernest Brooks, official British photographer.
August 3rd 1917, St Julien. Death of Private 9006 George Walker, 16th Bn. Sherwood Foresters, 117th Brigade, 39th Division. Born in Radcliffe and a regular soldier, he was killed in action, age 35 at St Julien.
From Sherwood Foresters War Diaries (held at the Worcestershire and Sherwood Foresters Regimental Museum, Nottingham):
Julien, Ypres Salient. August 2nd. About 6pm orders received to take over Divisional Front.
16th Battalion SF relieved the 13th Royal Sussex in and behind St Julien. Relief was completed by 9.30 p.m. During the process of relief a high velocity shell entered Venheulle Farm killing and injuring 30 other ranks including 3 officers.
August 3rd. 'A' and 'B' companies were heavily shelled in their dug out positions and suffered heavy casualties. Their positions were untenable and at 6 p.m. 'A' Company had to withdraw to Camphor Trench and 'B' Company to California Drive. 2 Platoons of 'B' Company were sent up to reinforce the St Julien defences.
August 5th. During this period the very wet weather made the work of holding the line a matter of great difficulty. The dugout and trenches were very wet during the whole six days and the men were all wet through and unable to lie down to rest. Rations were brought up nightly on pack animals as far as Cheddar Villa in spite of intense shelling. The conduct of all ranks, both during the assault and throughout the tryimg period subsequent was beyond all praise.
Fighting continued in a series of battles leading up to the capture of Passchendaele on November 6th 1917.