JAMES EDWARD REDGATE 1886–?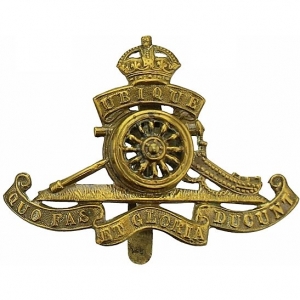 Born 1886 Radcliffe on Trent
Baptised 21st July 1886 at St Saviour's Church, Nottingham (residence Radcliffe on Trent)
Married 1927 to Ethel Kiddier
Date of death not known
1891 Census
Age 4 living on Walnut Grove, Radcliffe on Trent, with his father Herbert, a lace warehouseman, mother Sarah, sisters Ethel 2 and Alice 1 and a servant Emma Hill 12.
1901 Census
Age 14 a boarder at Newark Grammar School
1911 Census
Age 24 living in Grassholme on Walnut Grove, Radcliffe on Trent with father Herbert, a lace manufacturer, mother Sarah, sisters Ethel 22 and Alice 21. Family employed a general servant. He is employed as a warehouseman.
Military Service
Rank: Gunner
Service Number: 46620
Military Unit: 16th New Heavy Battery, Royal Garrison Artillery.
Theatre of War: France and Flanders, date of entry 9.7.15
Attestation: 29 August 1914
Height 5ft 11½ins, weight 126lbs, eyes brown, hair brown, complexion fair. He has a scar on his right kneecap. Religion: Church of England.
9.7.15: Posted to France
29.08.16: Promoted
2.1.17: Asked to revert to Gunner, (but not because of any offence committed).
May 17: Had to pay for a lost anti-gas helmet 2s 4p
14.6.17: Hospitalised
13.4.18: Posted as missing but reported injured 26.4.18 when admitted to hospital
Confusion regarding his whereabouts for some months. Letters from E Lily Tillott of Blackheath attempting to find out about him. Letters had been returned to her, with "location uncertain".
In the confusion of the war a number of men went missing for a period of time and relatives and friends became very anxious. James Redgate's case exemplifies the difficulties people at home encountered when trying to trace a missing person.
Edna Lily Tillott, born 1887 in Brentford, Middlesex, was an unmarried schoolteacher living in Blackheath whose father worked for the Range Finding Inspectorate of the War Department.
128 Shooters Hill Road
Blackheath
London SE
June 9th 1918
Dear Sir,
I am writing to ask you if you could kindly give me some information about a friend of mine in France.
My letters have been returned to me marked "Location uncertain"
My friends name and number are:-
46220
Gunner J E Redgate
16th New Heavy Battery
RGA, BEF, France.
I am anxious about him. I should be very much obliged if you would kindly help
I am
Yours truly
E Lily Tillott (Miss)
She wrote again:
128 Shooters Hill
Blackheath
London SE3
Sunday July 7th 1918
Dear Sir,
Thank you for kindly sending me the address I asked about. However I received the letter back with the envelope.
I am sorry to trouble you again but could you please kindly let me have any information of:-
46220
Gunner J …..
16th New Heavy……….
RGA, BEF, France
I am
Yours Truly
E Lily Tillott (Miss)
Medals Awarded: 1914-1915 Star, British War and Victory
Other information
Left for Lisbon, Portugal from Liverpool on the ship 'Denis' 30 May 1919 at the age of 33.
Returned to England on 26 June 1919 from Lisbon on the 'Anselm'
Went to Cape Town, South Africa on the 'Ascanius on 21 May 1927 travelling first class. He described himself as a Lace Manufacturer.
On 9 March 1959 he came to visit the UK for 3 months on the 'Bloemfontein Castle' with his wife Ethel. He was aged 72 and retired. Their address in England is given as 24 Priory Road, West Bridgford but they are residents of South Africa.
Military Personnel Address on 1918 Electoral Register
Walnut Grove, Radcliffe on Trent.
From the 1922 Electoral Register
Address: Walnut Grove
Household: Living with sister Alice
From the 1939 Register
Not found, presumed living abroad
Reasons for inclusion on Radcliffe on Trent Roll of Honour:
Born and lived in Radcliffe on Trent