EDMUND THOMAS E MACHIN* 1872–1961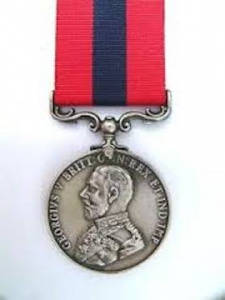 Distinguished Conduct Medal
Born 1872 in Bow, Middlesex (Essex)
Married 1910 July – September quarter to Annie E. Puttock in the district of Nottingham
Children: Peggy and Geoffrey Charles James Machin, born in 1923
Died 23rd September 1961, age 89
1881 Census
Age 9, living at 26 Merchant Street, St. Leonard, Bromley, Tower Hamlets, with father Charles, a carrier, mother Sarah A., his siblings Percy, Florence, Albert, Fanny, Frank and Walter, and grandmother Mary A. Machin.
1891 Census
Unable to find him in 1891
1901 Census
Unable to find him in 1901
1911 Census
Age 39, living in 6 rooms at 4, Tudor Grove, Nottingham with wife Annie age 23. Occupation Commissionaire, Army Pensioner, Notts. Royal Horse Artillery. Married for under 1 year.
Military Service before 1914
Enlisted on 17th July 1908 in Nottingham for 4 years service, age 36 years 5 months.
Gunner, Notts Horse Artillery Battery, Reg. no. 1, later 612002. Height 5ft 9ins, chest 36½ins.
Occupation Commissionaire employed by Captain Laycock.
Home address Park Lane Nottingham.
On his attestation form he states that he has served 21 years in the Royal Horse Artillery and was 'discharged to pension'.
Rank: Battery Sergeant Major
Military Unit: Royal Horse Artillery
Service Number: 1, later 612002
Promoted to Battery Sergeant Major on the day of his attestation, 17th July 1908.
Annual Training:
24.7.09–7.8.09: Wiseton Park
28.5.10–11.6.10: Hamilton Camp
9.9.11–23.9.11: Skegness
1912: Present
11.7.14: Re-engaged for 4 years, Battery Sergeant Major
Military Service from 1914
Rank: Battery Sergeant Major
Service Number: 612002
Military Unit: Royal Horse Artillery
Theatre of War: Egypt, date of entry 25.10.15
Colour Service from 5.8.14 to 19.2.19; overseas 3 years 3 months.
5.8.14–10.4.15: Home
11.4.15: British Expeditionary Force
28.1.15: Appointed Warrant Officer Class II. Continued in the Service under the Military Service Act, 1916.
25.10.15: Entered theatre of war, Egypt
17.4.16: Admitted to 17 General Hospital, Alexandria
22.4.16: Admitted to hospital in Monlazah with debility
22.10.16: On furlough in Great Britain for 6 weeks
22.10.16: Embarked, arrived in England 3.11.16.
18.3.17: Mentioned in despatches by General Officer Commanding, E.E.F. (Egyptian Expeditionary force). London Gazette 6.7.17
11.5.17: Distinguished Conduct Medal awarded, announced in London Gazette, page 4596, 'For conspicuous gallantry and devotion to duty during operations. He has rendered invaluable service throughout and has at all times set a fine example of courage and determination'.
17.7.17: Continued as Battery Sergeant Major.
5.12.18: 3 weeks furlough in UK. Embarked Alex(andria)
16.12.18: Disembarked Southampton
Address: Radcliffe on Trent
19.2.19: Discharged. £5 pounds of £15 bounty paid.
11.3.19: Bounty refused on the grounds that he was 'time expired' on 16.1.17 as he was over 41.
Medals Awarded: Distinguished Conduct Medal, 1914-1915 Star, British War and Victory. Mentioned in Despatches
Military Personnel Address on 1918 Electoral Register
Lindum Villas, Lincoln Grove, Radcliffe on Trent
15.9.19 living at The Cottage, Clayworth, Retford, Notts (states that it is his permanent address).
From the 1939 Register
Address: Wiseton, East Retford, Nottinghamshire
Occupation: Army pensioner
Household: living with wife Annie born 27.6.1888 and two people whose records are officially closed.
Other information
Survived by wife Annie Elizabeth Machin. Address at date of death: Ivy Cottage, Wiseton, Notts
Reason for inclusion on Radcliffe on Trent Roll of Honour
Radcliffe on Trent address in 1918
* Appears on the birth, death, probate registers and censuses as Edmund Thomas Machin (Edmund Thomas E Machin on the birth register). He also signs himself as Edmund on one page of his Service records when he is re-attesting in 1912 after serving in the Territorial force for 4 years. All other pages in the Service records record him as Edward, but his first name is given as Edmund on the Absent Voters list 1918. Possibly the 'E' after Thomas could be for 'Edward'.