CURTIS JOHN MACHIN 1900–1983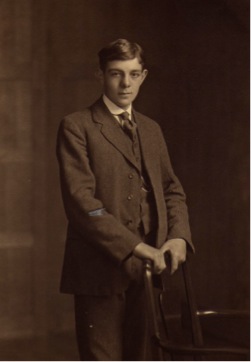 Photograph courtesy of family
Born 22nd January 1900 at the family farm, The Elms in Bassingfield, Nottinghamshire.
Married in 1926 to Mary Holbrook and had two children, John born 1929 and Susan born 1939.
Died September 1983 in Leicestershire.
1901 Census
Living at Bassingfield with father John Parkin Machin, a farmer, mother Rebecca nee Fisher, older sister Ella (b.1899), a nurse, a domestic servant and a farm servant.
1911 Census
Curtis was still living at Bassingfield. There are now two brothers, Richard (b.1902) and Frank (b.1904), and another sister Kathleen, also a domestic servant and a farm servant.
Military Service
Rank: Corporal
Service number: 59336
Military Unit: 5th Reserves (3/5th) Battalion, South Staffordshire Regiment
22.1.18: Enlisted
Height 5ft 10ins, weight 144lbs, hair brown, eyes brown, complexion fresh, teeth good
16.3.18: Medical exam, age given as 18 years 54 days.
28.6.18: Posted to 5th Reserves Bn. South Staffordshire Regiment at Sutton on Sea
4.12.18: At Sutton on Sea. Disciplinary note re laughing on parade
6.12.18: Extract from Part II orders noting he was in 484th Agricultural Coy, Derby
25.1.19: Returned to 5th Reserves, South Staffs from 484 Agr. Coy
12.3.19: Posted to 3rd Bn. South Staffordshire, Hightown, Liverpool
14.7.19: Posted temporary corporal for army of occupation
27.10.19: Demobilized
Medals Awarded
Unable to find medal record. His service details indicate that he did not serve abroad during the war period.
Curtis John Machin enlisted in January 1918 around the time of his 18th birthday. He was posted to the 5th Reserves, South Staffordshire regiment in June 1918. He was temporarily attached to the 484th Agricultural Company, along with Frank Rozee from Radcliffe on Trent, (their names appear together on the same document in service records). He was returned to South Staffs Regiment 24th January 1919. He was posted to Hightown, Liverpool in March 1918. His notes state that he was posted 'temporary corporal for the army of occupation to complete establishment. We cannot find any evidence to establish whether he then went on to join the British Army on the Rhine.
Following the armistice, the British Army entered German territory on 3rd December 1918 and the British Army of the Rhine was established as the occupying force in March 1919.
From the 1939 Register
Address: Westwood, Ollerton Road, East Retford, Notts.
Occupation: farmer
Household: living with wife Mary and two other people (records officially closed)