GEORGE NORTON 1878–1940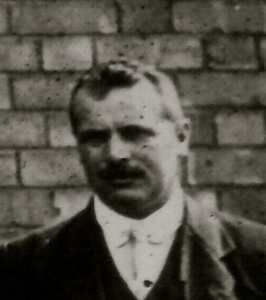 Photo from Radcliffe on Trent Local History Society
Born 26th April in Staveley, Derbyshire
Baptised 30th May 1878 at Staveley
Married 15th August 1906 to Mary Jallings, at St Mary's Church, Radcliffe on Trent. Son George born 18th August 1912
Died 1st January 1940 on Shelford Road, Shelford, Notts. Buried Radcliffe Cemetery (B35, no headstone)
1881 Census
Living in Hartington Cottages, Staveley, Derbys with father William, a coal miner and mother Frances Emma.
1891 Census
Age 12, scholar, living with father William, a coal mine deputy, mother Frances Emma, brothers Ernest 9, Edgar 5 and William H 1 at 60, Wood Lane, Treeton, near Rotherham.
1901 Census
Unable to find him in 1901 but his family are recorded as living at 75 Wood Lane, Treeton, parents and brothers Ernest, Edgar and Basil 9.
1911 Census
Age 32 living on Lorne Grove, Radcliffe on Trent, with wife Mary 34. He is employed as a Head Teacher (Elementary School).
1914 Electoral Register
Living on Lorne Grove, Radcliffe on Trent
Military Service
Rank: Corporal
Service Number: 118365
Military Unit: Royal Garrison Artillery
Theatre of War: France and Flanders, date of entry 31.12.16
Attested: 1 Dec 1915 at Nottingham
Address: Lorne Grove, Radcliffe
Age 37 years 7 months. Occupation: School Teacher. Height 5ft 6¾ ins, chest 38½in. Previously served in Prince of Wales' Own (York Vol. Battalion)
2.12.15: To Army Reserve
10.8.16: Mobilized
14.8.1916: Attestation confirmed at XIth Battalion Lines, Shoreham-by-Sea. Royal Garrison Artillery, no.118365
14.8.16: Posted to Siege Depot
7.10.16: Promoted Bombardier.
7.10.16: Appointed Acting Corporal
11.10.16: Posted to 247 Siege Battery
30.12.16: Embarked Southampton
31.12.16: Disembarked Le Havre
31.3.17: Confirmed rank Corporal
Illness
31.10.17: Invalided to England per HS(hospital ship) Stad Antwerpen. Contusion – body.
1.11.17: Sick. Admitted to Western General Hospital, Manchester. Contusion sacro-lumbar region. Onset 27.7.17. Severe ecchymosis (discolouration of skin through bruising).
7.11.17: Massage to back Dec 19th. Fit for class II massage and exercises.
22.12.17: Discharged from hospital after 52 days as patient.
13.3.18: "A" Siege Depot
2.4.18: Letter from his Commanding Officer to the Officer Commanding RGA Records, Dover states 'Ref attached memo of 25.3.18. Please forward the parcel of effects belonging to no. 118365 Norton, G. to this office as this NCO is serving in the unit under my command'. Parcel was received 8.4.18
26.4.18: Attached No 2 B Brigade RFA, Preston Barracks, Brighton pending posting to Royal Artillery Cadet School
19.6.18: Posted No. 2 RGA OCS (Officer Cadet School), Maresfield Park, Brighton
22.12.18: Proceeded to Dispersal Centre, N Camp, Ripon
23.12.18: From Protection Cert. and Cert of Identity: Medical category A1 at date of discharge.
Specialist military qualification B6A ?
Medals Awarded: British War and Victory,  received 27.10.21
Military Personnel Address on 1918 Electoral Register
Living on Lorne Grove, Radcliffe on Trent
Other Information:
George Norton resumed his duties at Radcliffe on Trent school after being discharged from the military. Nickname from his return "Winkie" (shell shock?)
Directories: 1912 Kelly's: Private resident, Lorne Grove 1916 Kelly's: Master, Public Elementary School 1916 and 1920 Wright's: schoolmaster, Lorne Grove 1925 Kelly's: Lorne Grove.
Address at date of death: 20 Lorne Grove, Radcliffe on Trent. Widow Mary died 1 May 1969 – address 20, Lorne Grove.
From the 1922 Electoral Register
Address: Lorne Grove, Radcliffe on Trent
Household: wife Mary
From the 1939 Register
Address: Council Villas, Lorne Grove, Radcliffe on Trent
Occupation: Head Teacher Radcliffe on Trent Council School
Household: living with wife Mary and son George, a solicitor.
Reasons for inclusion on the Radcliffe on Trent Roll of Honour
Lived and worked in Radcliffe on Trent.