GEORGE LEONARD LEESON 1887–1943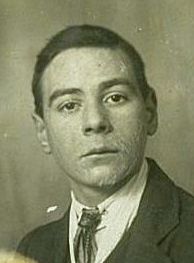 Photograph from Ancestry Public Member Trees
Born 7th January 1887, Radcliffe on Trent
Died 1943, age 56
Radcliffe on Trent School Register
Admitted 28 April (no year given). Address Knight's Hill
1891 Census
Age 4 living in Radcliffe on Trent with father James, a tailor, and mother Elizabeth
1901 Census
Age 14 living on Mount Pleasant, Radcliffe on Trent with father James, rural postman, step-mother Harriet and sister Dora age 3.
He is employed as an office boy. His mother Elizabeth had died in 1894 and his father had married again.
1911 Census
Unable to find him in 1911
Military Service
Rank: Private
Service Number: 23427
Military Unit: 15th Battalion, The Sherwood Foresters, 105th Brigade, 35th Division,
Theatre of War: France and Flanders, date of entry 14.3.16.
Enlisted: 24.2.1915
Occupation: Bill Poster
Overseas from 14.3.16–5.1.17.
28.11.17: Discharged, no longer physically fit for war service
Further Attestation: 16.7.19, Nottingham, age 24 (so possibly lied about his age), no. 205182, Royal Army Medical Corps, Aldershot Depot.
Height 5ft ½ins, chest 35½ins. Next of kin: father James and mother Harriet, Lincoln Grove, Radcliffe
18.7.19: Posted to Depot
16.7.19–15.8.19: Home
16.8.19–12.10.19: Russia
13.10.19–1.3.20: Home
Illness
20.11.19: Transferred from O.C 2nd Scottish General Hospital (Craigleith) to Lord Derby War Hospital, Warrington
23.2.20: Notice that he is about to be brought before an Invaliding board with a view to discharge from the Service. He was serving in 159 Amb. Royal Army Medical Corps
1.3.20: Discharged, no longer physically fit for war service. Mental instability degree of disablement 30%. Awarded a weekly pension of 8/3d for 10 weeks (Final). Disablement non-attributable to war service. Age 25, single.
NB A Statement of Services document states that his character is 'Good' and that he has an incapacity of 60% due to mental instability and that his name has been put forward for issue of a second King's Certificate. The Pension Record card gave his assessment of disability at 100% on 7th January 1920, a pension of 40/- a week.
Medals Awarded: British War and Victory, Silver War Badge no. 304385
Awarded King's Certificate no. 9735 12 Aug 1920. Aggravated by service in Russian Theatre
Other Information
George may have been a patient in Notts County Asylum after his discharge from service. The hospital records report that in 1921 George Leeson, age 34, a service patient, was discharged, 'relieved'.
From the 1939 Register
Address: Ministry of Pensions hospital in Chepstow, Monmouthshire
Occupation: previously fitters mate. Now a patient at the hospital
Reasons for inclusion on the Radcliffe on Trent Roll of Honour
Born and lived in Radcliffe on Trent.