GEORGE FOSTER 1894–1970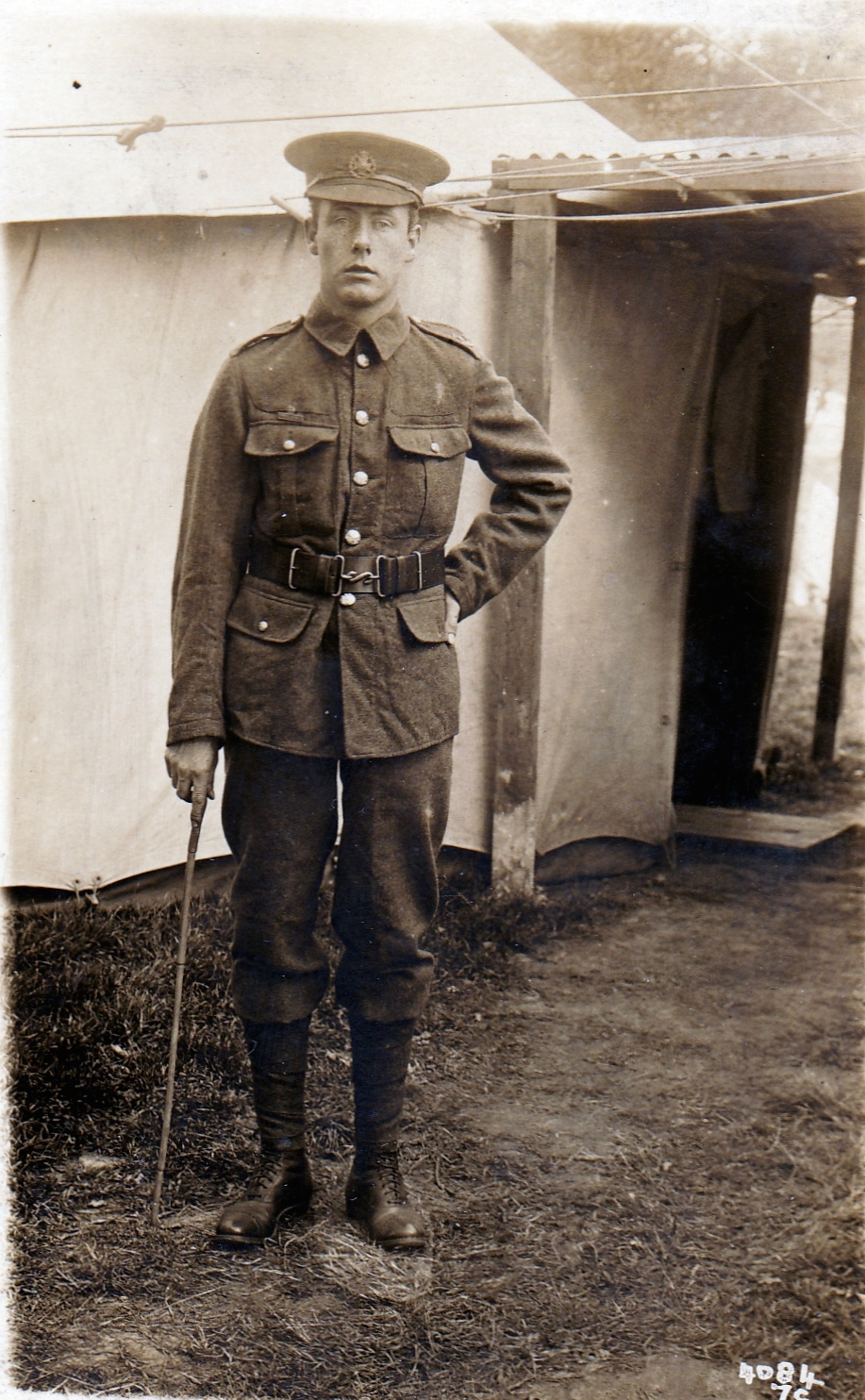 Photo from the family collection of Foster relatives
Born 21st January 1894 in Radcliffe on Trent.
Baptised 18th February 1894 at St Mary's Church, Radcliffe.
Married Hilda Isabella Mary Holmes on 28th October 1922 at St Andrew's Church, Nottingham.
Died 1970 in Worthing, Sussex
1901 Census
Age 7, living on Bingham Road, Radcliffe, with father William 35, auctioneer and valuer, mother Clara 36, (nee Stafford), sister Mary E. 6, aunt Martha Foster 79, living on own means, and servant Emma Hill.
1911 Census
Now an auctioneer's articled clerk, living at Fairfield House, Bingham Road, Radcliffe with his parents, sisters Mary Emma 16, and Dorothy Jane 9 and servant Edith Woolley. The house had eight rooms.
Military Service
According to family members (and the cap badge in his photograph) George served with the Sherwood Foresters (Robin Hoods). In his photograph George is wearing the Imperial Service badge above his right breast pocket. This could be worn by any man who had volunteered for the Imperial Service Section and to serve abroad in times of war. The Robin Hoods were a Territorial battalion of The Sherwood Foresters (Notts and Derby) Regiment formed before WW1. In September 1914 another Robin Hood battalion, the 2/7th was formed, the original battalion becoming the 1/7th. The 2/7th was sent to Dublin in 1916 to fight the Easter Uprising, then transferred to the Western Front in 1917. A third Robin Hood battalion, the 3/7th was formed in March 1915 and remained in Britain for the duration of the war, training reinforcements for the 1/7th and 2/7th. The 1st/7th Battalion Sherwood Foresters (Robin Hoods) was commanded by Lieutenant Colonel C.W. Birkin of Lamcote House, Radcliffe on Trent until he was seriously wounded in July 1915. It is possible that George served with the 1st/7th Battalion under Lieutenant Colonel Birkin but there are too many men named George Foster in the Sherwood Foresters on available military records to give further details of his military service.
From the 1922 Electoral Register
Address: Bingham Road, Radcliffe on Trent
From the 1939 Register
Address: 48 Ebers Grove Nottingham
Occupation: Auctioneer
Household: living with wife Hilda Isabella Mary born 15th November 1896. Occupation R/C telephonist no. 1149 ARW (Air Raid Warden?) Hyson Green Division, Nottingham.
Other Information
George's wife Hilda died on 11th October 1977 in Nottingham.
Reasons for inclusion on Radcliffe on Trent Roll of Honour
Born and lived in Radcliffe on Trent