ELLEN LEAVER* 1869–1951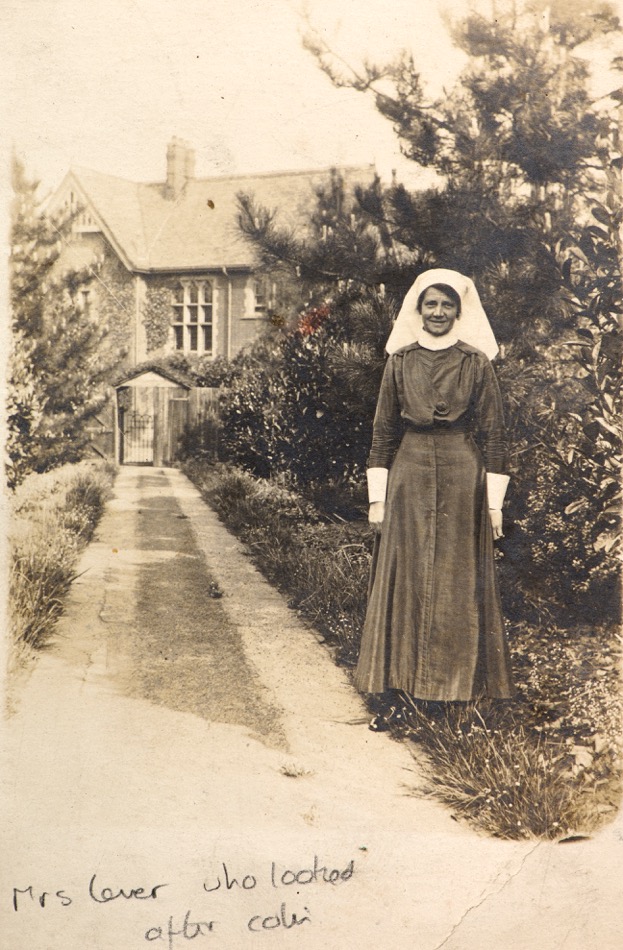 Ellen Leaver in the grounds of Notts County Asylum, courtesy of the Simpson family
*Alternative spellings of 'Leaver' and 'Lever' are given in documents pertaining to her. The surname on the birth register is Leaver.
Born: 6th September 1869, New Basford, Nottingham
Died: 25th September 1951, West Bridgford, Notts. age eighty two
Ellen Leaver worked at Notts County Asylum from 1902 when it opened to 1925 and was matron from 1910 until her retirement. She never married and had a long career at the hospital, which included working there when the asylum was converted into a war hospital for 'shell shocked' servicemen.
Before the First World War
Ellen was the daughter of Thomas and Emma Leaver. In 1871, age two, she was living with her parents, grandparents and her sister Mary (age four) in New Basford, Nottinghamshire. Her father was a fitter in a Nottingham lace factory. Her brother Arthur was born in 1873, followed by her sister Ruth in 1875 and brother Edwin in 1879. By 1891 Emma Leaver was a widow living in Radford, Nottingham, with her three daughters and two sons. Ellen (described as Nelly on the 1891 census) and her sisters were working in the lace industry.
Ellen's life had changed by the time of the 1901 census. She was now working as an asylum nurse at Notts County Asylum, which was housed at Carlton Road in Nottingham. The asylum was old and dilapidated and due to be closed. A new asylum was being built at Saxondale, located two miles outside Radcliffe on Trent village on a large hillside site of 230 acres. The buildings included a farm, dairy and bakery (during the war the hospital was self sufficient in milk, fruit and vegetables. Some, but not all, of the hospital's meat was provided by the farm (see hospital minutes for 1916)). The new Notts County Asylum  was   opened officially in 1902, providing accommodation for 452 patients. Patients were transferred from the old asylum in Nottingham as were some of the staff, including Ellen Leaver who worked her way up to become the matron. Hospital records show she had achieved this position by 1910. The 1911 census, citing her as matron, also records the hospital as having thirty female nurses, who mainly came from outside the area, and nineteen male attendants. There were 236 male and 258 female patients in residence. Ellen Leaver's job included overseeing the nurses and being responsible for some administrative matters. Advertisements for staff in the 'Nottingham Evening Post' give her name as the person for women seeking employment to contact. The hospital expanded in 1913 when extensions were built to accommodate an additional 148 patients. More staff were taken on to look after them.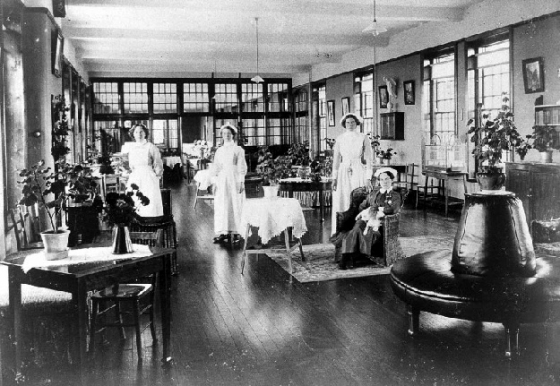 Nurses and matron at Saxondale Hospital in the 1920s. The matron, seated, may be Ellen Leaver
During the war
The war had a significant impact on the daily life of the asylum. Thirty seven of the pre-war male staff were called up immediately and left the hospital, resulting in an acute shortage of attendants. One of them whom the hospital was sorry to see go was the assistant clerk and steward, Archibald Vere Simpson, who became a lieutenant in the Northumberland Fusiliers. The hospitals put in appeals to retain its staff, including one for Archibald, with mixed success. By the spring of 1916 ten attendants and all the farm and artisan staff had been exempted. The Medical Superintendant then appealed again to the Board of Control for exemption from military service for its thirty current male staff; all but six appeals were refused. The hospital's annual reports for 1916 state The past year has been one of much anxiety, due to the large number of male staff who have joined the Forces, also the number of changes in the female staff. The strength of the male attendant staff has been much below the recognisable standard and it has been found impossible to obtain 'ineligible' men who are of suitable physique for the care of patients. The war also brought constraints on patients' social activities. Their outside work on the farm was curtailed and they experienced food shortages. The asylum began to take in a few patients who were soldiers and sailors suffering from 'shell shock'. Ellen Leaver would have been involved in managing these changes to the pre-war routine.
In July 1918, the asylum was requisitioned by the War Office and converted to Notts. County War Hospital, resulting in considerable upheaval for patients and staff :
The matron, Miss E. Lever, and her assistant, who was serving in a civil capacity at the Notts County Asylum, were taken into the employ of the War Office. Those nurses who held the Medico-Psychological Certificate were appointed 'Sisters", in charge of Wards, the remainder of the female nursing staff becoming ordinary nurses. This female staff (17) was augmented by the engagement of Sisters and Nurses to carry out the work of the Hospital making a total female nursing staff of 48.
Ellen Leaver, having been asked to stay on as matron of the war hospital, would have been involved in the new staffing arrangements. In addition, she would have helped organise the dispersal of 516 civil patients who were transported by rail to hospitals in Nottingham, York, Bedfordshire, Leicestershire and Staffordshire. She would then have had to adapt to a new medical team of military doctors, manage the nursing of 1189 servicemen who were admitted at various times over the ensuing year and accept the involvement of the Red Cross in visiting patients. She would probably have been pleased to welcome back the former deputy matron, Jane Simpson, who was released by the war office from her post at Northamptonshire War Hospital. Jane returned to what was now Notts County War Hospital and became its deputy matron.
Notts. County War Hospital stayed open until August 1919, providing care for patients suffering from war trauma. During that time 29 patients died, some from influenza and tuberculosis and others from various illnesses including 'mania'. There was one confirmed suicide (see Harry Smith's biography) and another reported by nurse Mary Jollie (patient name unknown). Much was done to entertain those servicemen whose condition enabled them to attend the newly installed cinema, lectures, football and cricket matches between wards and dances which were especially enjoyed. By July 1919, most patients had been discharged or transferred; there were 238 military patients remaining at the hospital. In August 1919 Notts County War Hospital was disbanded. The premises were then closed for three months for refurbishment and patients still there were discharged or dispersed. The Asylum reopened on November 11th, 1919, when 456 of the original civilian patients were returned (60 remained where they were sent in 1918). Ellen Leaver was there to welcome them back. She was praised for her work at the War Hospital by S. Lloyd Jones, Medical Superintendent:
'I must specially commend the work of Miss Lever (Matron). Her knowledge of nursing and domestic administration, and her untiring efforts and constant efficiency cannot be too highly praised'.
After the war
Forty-three male staff served in the war and eleven lost their lives. Jobs were kept open for surviving permanent staff. The hospital minutes show that all except three of them returned to work. Archibald Simpson came back to his office job and worked his way up over the years to the point where he was running the entire hospital as director.
Ellen Leaver remained in post and may have encountered Charlie Chaplin when he was admitted in 1920 suffering from depression. In 1922, the nurses went on strike after the authorities proposed to increase their hours to sixty six a week and reduce their wages. The strike was unusual in that the staff were supported by the patients. The nurses barricaded themselves in the wards where they continued their duties. They were evicted by force after three days during a four hour struggle with a hundred police. Nearly all the nurses were involved. Ellen Leaver's approach to the strike has not been described in newspaper accounts.
The hospital minutes for July 14th 1924 state that 'the Chairman had discussed with Miss Lever the question of her retirement and superannuation. Resolved that the Matron be granted an honorarium of twenty-five pounds (£25) and also one month's special sick leave for the benefit of her health'. Ellen Leaver resigned in October. At the monthly meeting, the clerk 'read the letter dated 24th October 1924 from Miss Lever requesting permission to retire on superannuation allowance on 5th February 1925. Resolved that this resignation be accepted with regret, and that the question of superannuation allowance and the appointment of her successor is considered at the next meting.'
Retirement and caring for Leslie Colin Simpson
Ellen Lever retired in February 1925 at the age of fifty five after twenty four years of service at the hospital. She then took on a new job: looking after the son of Archibald and Jane Simpson. Archibald had married the deputy matron of the hospital, Jane (Jennie) Jones from Portmadoc, in 1913. Their first child was born in 1920 and named after Archibald's brother, Leslie Colin, who was killed in action in 1915. Archibald's wife Jane died the following year in 1921.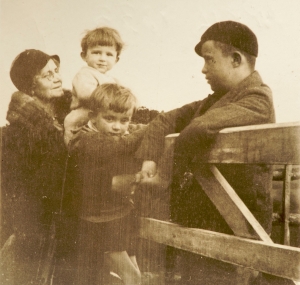 Ellen Leaver in the 1930s, courtesy of the Simpson family
Leslie Colin Simpson had Down's Syndrome. He came to live with Ellen in 1926 after she bought  24 Hampton Road in West Bridgford. Leslie Colin died in 1947 at the age of twenty-seven and it is thought that he was still living at this address.  Descendants of Archibald Simpson recall that the family were very fond of Ellen and referred to her as 'Auntie Lever'. She was living at 24 Hampton Road when she died on 25th September 1951 at the age of eighty two.  Probate records show her effects were £1912.15s.11d, to be administered by her sister Ruth (also unmarried). Ruth died in 1952 and administration passed to Ellen's niece Edna Marion Lever, spinster, and to Peter Desmond Lever, local government officer.
Author: Rosemary Collins