CHARLES VINCENT VICKERSTAFF
1894–1973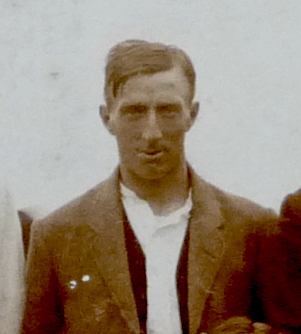 Photograph from the Cutler collection
Brother of Archibald, John and Leonard
Born 25th August 1894 in Radcliffe on Trent
Married June 1922 to Amy Waterfield. Sons Douglas born 1923, Kenneth 1928-1980, Philip born 1933
Died Caterham, Surrey 31 May 1973, age 78.  Address: 23 Homestead Road, Caterham.
Radcliffe on Trent School Register
He started school 6.9.1897
1901 Census
Living on Main Road Radcliffe with his father William age 45, a baker, mother Adelaide née Bell 39, a dressmaker, and siblings Sam (i.e. Archibald ) 20, a professional cricketer, Kathleen 14, John 13, and Leonard 4.
1911 Census
By 1911 he was employed as a milk carrier, then aged 16, living at Ferry House, Wharf Lane with his father William 55, a baker, mother Adelaide 49 and brothers Leonard 14, Archibald 28, plus Archibald's wife Frances 24 and daughters Adelaide 6 and Edna 5. House had eight rooms.
Military Service
Rank: Bombardier, later Acting Sergeant
Service Number: 63193
Military Unit: Ammunition Column, Royal Field Artillery, 113rd Brigade, 25th Division
Theatre of War: France and Flanders, date of entry 25.09.15
Medals Awarded: Meritorious Service medal in recognition of valuable service rendered with the Armies in France and Flanders. Gazette Issue 31132. Gazette date 17.01.1919. Address in Gazette given as Radcliffe on Trent; 1914-1915 Star, British War and Victory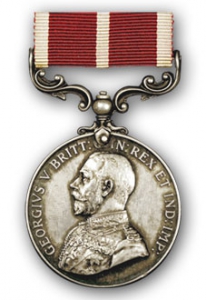 Meritorious Service Medal
Military Personnel Address on 1918 Electoral Register
Wharfe Road, Radcliffe on Trent
Other information
He took employment at Notts. County Mental Hospital on October 27th 1919 and worked there for two and a half years. Charles Vickerstaff was one of 66 staff dismissed from Notts County Asylum in April 1922 following a strike by female nurses, male attendants and kitchen staff. The strike was called by the National Union of Asylum Workers after the hospital committee demanded that the staff accepted a decrease in wages and an increase in hours from sixty to sixty six per week, to be achieved by them forfeiting one day's leave per fortnight. Staff were told that failure to accept this agreement  would result in instant dismissal. After the strike Charles Vickerstaff and John Mason (also on the Radcliffe on Trent Roll of Honour) were employed at Caterham Asylum, a large institution in Surrey; they lived in the same street in Caterham. Charles married Amy Waterfield, one of the striking nurses. He registered with the General Nursing Council on 16 October, 1925; his qualifications were his experience working at Caterham Hospital from 1922.
From the 1922 Electoral Register
Address: County Mental Hospital, Saxondale, Radcliffe on Trent
On electoral rolls for Surrey from 1923 onwards
From the 1939 Register
Address: 23 Homestead Road, Caterham, Surrey
Occupation: Mental Nurse
Household: living with wife Amy, sons Kenneth and Philip, at school and Ellen Langham, born 1868
Reasons for inclusion on Radcliffe on Trent Roll of Honour
Born and lived in Radcliffe on Trent with parents.