Links and useful websites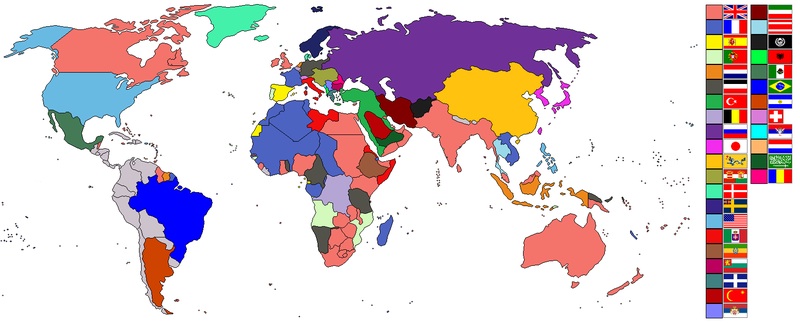 Map showing world empires and colonies at the time of the First World War,courtesy of https://commons.wikimedia.org
This page has links to groups in Radcliffe on Trent and Nottinghamshire. There are also links to sites concerning WWI and sites to help you with research.
Discovering Radcliffe on Trent
Radcliffe on Trent is a vibrant community with many voluntary groups, several of which have links on our website pages. In addition:
Radcliffe on Trent Parish Council website has news about what's happening in the village at www.rotpc.com  
Go to Radcliffe on Trent University of the Third Age to discover more about the branch and its activities. The Radcliffe WWI project team are one of its many groups: www.rot-u3a.org.uk
Radcliffe on Trent local history society is a research and archives group. Their publications, available through the website, include books covering the history of Radcliffe on Trent from 1710–2000 and Holme Pierrepont from earliest times to 1801. www.radcliffe-on-trent-local-history-society.co.uk
Nottinghamshire and WWI
The Nottinghamshire Great War Roll of Honour is a project that brings together for the first time the names of all those from the county who fell in WWI. Search the site to find names and memorials. Those who are not on a memorial are recorded on the Nottinghamshire virtual memorial on this website – a tribute containing more than 2000 names. www.nottinghamshire.gov.uk/rollofhonour
The Centre for Hidden Histories, based at the University of Nottingham, is one of five World War One Engagement Centres in the U.K. established by the Arts and Humanities Research Council to engage with and support local communities in their commemorations of WWI. Go to the hidden histories website to find out about their projects and support they offer to community groups.www.hiddenhistorieswwi.ac.uk
This website often provides general information about the many groups in Nottingham and across the county who are researching WWI and putting on events.www.experiencenottinghamshire.com
The story of World War One
There are a vast number of websites for WWI covering all aspects. They are easy to find with search engines. Not sure where to start? The two websites below have information about and links to many different themes.www.greatwar.co.uk
This website provides a guide to WWI battlefields and the history of the Great War. An index on the home page will take you to a wide range of topics, information and  related websites.www.1914-1918.net. The Long Long Trail has comprehensive and concise coverage of the British Army in the Great War, which includes information on soldiers, units, regiments and battles. Its 'Links' page takes you to 'valuable and admirable websites' about the war.
Centenary Events 2016–2018
www.centenarynews.com A useful website of news, videos, articles, lists of events and much more relating to the centenary.
www.1914.org Imperial War Museum website co-ordinating lists of international events and resources marking the outbreak and course of WWI. Over 3,400 organisations from 57 countries are members of the First World War Centenary Partnership led by the IWM and accessed through this website. The U3A Radcliffe on Trent WWI group is a member.
WWI Commemorative Community Projects
There are many WWI commemorative community projects taking place across the U.K. Here are links to some of those projects, whose findings can be read online.
Derbyshire
Crich – Parish WWI, Crich, Derbyshire http://www.crichparish-ww1.co.uk
Dundee
'Great War Dundee', Dundee, Scotland http://www.greatwardundee.com
East Sussex
The First World War, East Sussex
Northern Ireland
'Castleton Lanterns', North Belfast
Rutland
www.rutlandremembers.org/stories
Tyne and Wear
http://www.tynemouthworldwarone.org/memorial.html
Preston, Lancashire
Researching WWI names
Free websites
The Commonwealth War Graves Commission website is where you can search for a name on all CWGC graves and memorials to the missing.
www.redcross.org.uk
The website has a search facility for finding First World War Red Cross volunteers and Red Cross Hospitals.
The National Archives hold the official government records of the First World War and has an extensive data base to explore.
Subscription websites
For detailed information about individuals, subscription websites are a good option. Favourites of the project team include www.ancestry.co.uk www.findmypast.co.uk www.forces-war-records.co.uk and www.britishnewspaperarchive.co.uk
With the passage of time it is almost inevitable that some of the links will become broken. If you come across any broken links, either within our website or to external sites, please let us know at  info@radcliffeontrentww1.org.uk or go to Contact Us page